---
The Young Universities Summit, Guildford
2019-06-26 - 2019-06-28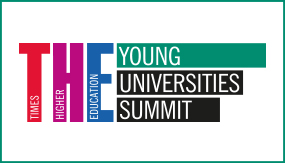 The Times Higher Education Young Universities Summit is the essential annual gathering of leaders of the world's best and most ambitious research universities founded since 1945. In June 2019, senior leaders from academia and related industries will gather at the University of Surrey's campus just outside London to assess the global outlook for higher education, analysing disruption, celebrating impact and identifying opportunities for new growth with their peers.
With a programme of visionary keynote talks, discussion groups and panel debates from university and industry that we intend to advance the agenda and trigger fresh perspectives for leaders. Over three days, the summit will explore geopolitical "black swans" and the impact on higher education, assess how future student's needs will change and how that will challenge current education provision, and debate how technology can create sustainable change to human well-being, with universities being better able to redefine their public value in the 21st century.
The summit will also host the exclusive launch of two THE university rankings: the "Golden Age" rankings of institutions founded since 1945, and the Young University Rankings, featuring institutions under the age of 50.
Conference website